There is nothing more disappointing than spending weeks, months, or perhaps even years spending Saturday after Saturday looking at homes or bidding unsuccessfully at auctions, time and time again.
I myself, have bought multiple properties at auction and have also helped my friends win the auction. Each time, there are 3 key strategies I employ that help me to win at auction – without going over budget. Win the auction in 3 steps
Firstly, make sure you understand your borrowing capacity and have your loan pre-approval in place. Next, do your research on the value of the property you're interested in. Talk to the agent and find out what other properties have sold in the area recently.
If you wish to have an independent valuer look at the property, ensure to choose a valuer who understands the local market well. I missed out on a great property in St Ives, because I took the advice of a valuer who didn't understand the St Ives market very well. He pointed out that the property last sold for $400,000 not so long ago and now had an asking price in the $800,000s – which didn't add up. I later learned that the previous sale price was a result of a divorce, with one spouse selling their half of the property to the other – i.e. the sale price only reflected half the property's total value.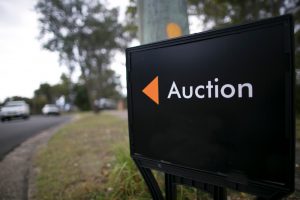 2. Position yourself for success
Before you go to the auction, you need to first be very clear in your mind that you want that property. Ask yourself: "Do I really want this property?" If the answer is yes, then arrive at the auction determined to win.
This sounds really simple, but many people don't do this. They turn up feeling not quite sure about if they really want it, or lacking confidence that they will be able to win. And if you keep losing at auctions than it starts to further impact your confidence and you lose momentum. Be determined to succeed from the outset.
You also need to position yourself financially. When I set a budget for an upcoming auction, I usually set two budgets: the first is how much I'm willing to spend – my ideal budget. The second budget is the maximum amount I can afford or am willing to pay if the bidding goes beyond my 'ideal budget'.
It's worth noting that more properties tend to sell at auction (as opposed to the private treaty) in a rising or hot market. In this type of market, expectations of sellers and agents are high, and auctions can help get the vendor the top price – playing off the emotions of the buyer within the energy of an auction. This makes it pretty hard to get a 'bargain' at an auction – it's usually only likely with a mortgagee sale or with a highly motivated seller for example, due to divorce or who has already purchased elsewhere. Accordingly, you will likely need to forget about trying to get the property cheaply – and instead, raise your ideal budget.
Remember, if you miss out, that means even more months spent looking and bidding on houses – as well as the potential lost opportunity cost. In my experience, the property is a relatively forgiving asset – if you hold it long enough it doesn't matter if you pay a little more.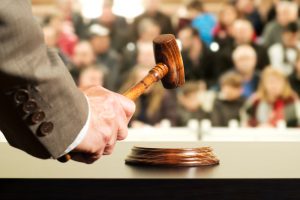 With sufficient preparation and the right positioning, your next step is employing the right psychology when it comes to bidding. The key is to make all the other potential buyers believe your pockets are bottomless to try to scare them off. There are 3 aspects to this:
Don't be the first bidder.
Come into the auction in the second half or once the bidding calms down.
For example, if you start to see the other active bidders showing some hesitation or if their bids go from $30K increments down to $10K / $5K increments, this means the other buyers are approaching their 'ideal limit'.
Break the tempo – set your own pace
When you bid, don't go at the same pace as the other bidders. For example, they add $5K, you add $5K, they add $5K, and so on in a kind of never-ending 'see-saw' effect. If your budget is $1 million, why start at $500K and work your way up so slowly?
Instead, set your own pace by bidding at 2-3 times their price, and without the slightest hesitation. If they bid $5K, you bid $10 or $15K. If someone tries to drag you back to the $5K 'see-saw', raise their price by $15K again, or this time, perhaps even $20K. You might be really close to your ideal or maximum budget at this stage, but other buyers have no idea of this. They may feel like your pockets go way deeper than theirs and will give up.
While you want to be determined to win, and you need to be bold in your bidding strategy to scare off any competition, make sure you remain calm and rational. Don't get caught up in a bidding war and find yourself going beyond your maximum budget either in the excitement of the moment or for a sense of ego – in needing to win. It's good to go with a partner, so one of you can keep the other in check.
If another bidder jumps in and the price goes beyond your maximum budget, be philosophical. Walk away knowing there will be another opportunity. There's no need to win for the sake of winning.
Alternatively, if you are the only bidder, and you haven't met the seller's reserve, and they ask for a little more that's still within your budget – don't say no simply because you want to feel good about getting a bargain. If you have your budget in place, you've done your research and you know you want the property, then be prepared to do what it takes within that budget to secure it.